Post by Senbecc on Jan 19, 2007 6:17:17 GMT -5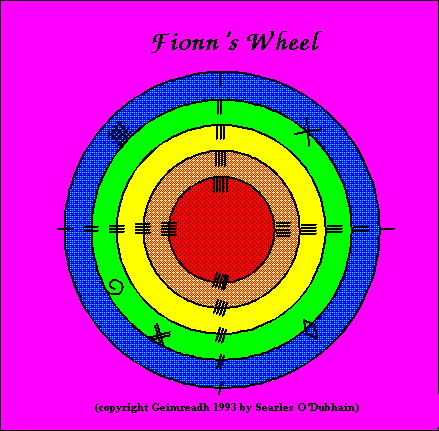 Knowledge of Nature
Knowledge of Mind
Knowledge of Spirit
Knowledge of Magic
Knowledge of Being
Long ago, in the realm of the Sidhe, which over laps our own, the branches of nine hazels overhung a deep pool on the river Boyne in Ireland. Hazel nuts (wisdom) fell from these branches into the pool and were the food of the salmon who lived therein. It is said that the most ancient of druids had foretold that whom-so-ever should eat of this great salmon of knowledge and wisdom would forever have achieved all the wisdoms that this world this reality, this plain, or any other has to offer.
"With truth in our hearts, strength in our limbs and deeds according to our words"
This is said to have been the creed of the Fianna, warrior noblemen charged with the protection of the high king of Ireland, not unlike today's special forces if i had to compare them to something we can all understand. Men of the Fianna had a series of trials which that had to pass in order to be classed in this cast of warrior Druids. Some of these were:
1. Recite the twelve books of poetry which told of the great deeds of the heroes of ancient Ireland.
2. Defend himself against the spears of nine warriors.
3. Race through the oak and birch woods of Ireland without breaking a twig.
4. Leap over a standing spear the height of himself.
5. Pass under a stick as low as his knee.
6. Remove a thorn from his foot while running.
Cumhall was the name of the leader of this group of fighting men, though a great and powerful leader and warrior, Cumhall eventually fell in battle with the men of Clan Mórna when his son Fionn was a small boy, and Fionn's mother feared that Fionn would suffer he same fate. So Fionn's mother had two wise women take him to the woods at the center of ireland called Slieve Bloom where they taught him many stories and accounts of the greatest heroes Ireland had ever seen. They educated his mind with great lore, and his body with the beginnings of a Fianna's training. They taught him to swim by throwing him in a deep pool at the river Nore, and left him to find his own way, he learned to run fast by herding rabbits in a field with no fences or hedges. Eventually Fionn grew into a straight tall young man and the wise women knew that it was time for Fionn to meet the wise Druid Finnéigeas to be instructed in the ancient arts of poetry.
However hidden Fionn still feared the men of Clan Mórna so Fionn went by the name of Deimne as he made his journey to Cuige na Mí off the banks of the river Boyne, which Finnéigeas had chosen because it was always beside that river which poetry was revealed to him. Near where Finnéigeas lived in a cabin grew nine hazels who's branches over hung a deep pool where the nuts of wisdom fell from the trees and fed the Salmon of wisdom, which Finnéigeas had spent many long years fishing for.
As a boy it is said that Fionn thirsted for the answers to questions, for it is bt asking questions that one becomes wise. All desires save one are fleeting, but it is that one desire which spans all time. Fionn's one desire was knowledge and he was willing to go anywhere, and forsake anything in search of knowledge. Deimne asked Finnéigeas every question he could think of and while Deimne never reached the end of his master's patients which were infinite he did eventual reach the limits of his knowledge.
"Why do you live on the bank of a river?" was one of these questions.
"Because a poem is a revelation, and it is by the brink of running water that poetry is revealed to the mind."
"How long have you been here?" was the next query.
"Seven years," the poet answered.
"It is a long time," said wondering Fionn.
"I would wait twice as long for a poem," said the inveterate bard.
"Have you caught good poems?" Fionn asked him.
"The poems I am fit for," said the mild master. "No person can get more than that, for a man's readiness is his limit."
"Would you have got as good poems by the Shannon or the Suir or by sweet Ana Life?"
"They are good rivers," was the answer. "They all belong to good gods."
"But why did you choose this river out of all the rivers?"
Finnéigeas beamed at his pupil.
"I would tell you anything," said he, "and I will tell you that."
Fionn sat at the kindly man's feet, his hands absent among tall grasses, and listening with all his ears.
"A prophecy was made to me," Finnéigeas began. "A man of knowledge foretold that I should catch the Salmon of Knowledge in the Boyne Water."
"And then?" said Fionn eagerly.
"Then I would have All Knowledge."
"And after that?" the boy insisted.
"What should there be after that?" the poet retorted.
"I mean, what would you do with All Knowledge?"
"A weighty question," said Finnéigeas smilingly.
"I could answer it if I had All Knowledge, but not until then. What would you do, my dear?" "I would make a poem," Fionn cried.
"I think too," said the poet, "that that is what would be done."
In return for his instruction in the Bardc arts Fionn took control of the day to day duties of his master's home, going to get water from the river, and carrying rushes for floors and beds, getting the fire lit before the chill of night, but Fionn's mind was always wandering through all the old Druid had taught him during his time there, the cunning of words, rules of metre, and the need for a clear fearless mind.
"I have learned much from you, dear master," said Fionn gratefully.
"All that I have is yours if you can take it," the poet answered, "for you are entitled to all that you can take, but to no more than that. Take, so, with both hands."
"You may catch the salmon while I am with you," the hopeful boy mused. "Would not that be a great happening!" and he stared in ecstasy across the grass at those visions which a boy's mind knows.
'Let us pray for that," said Finnéigeas fervently.
"Here is a question," Fionn continued. "How does this salmon get wisdom into its flesh?"
"There is a hazel bush overhanging a secret pool in a secret place. The Nuts of Knowledge drop from the Sacred Bush into the pool, and as they float, a salmon takes them into his mouth and eats them."
"It would be almost as easy," the boy submitted, "if one were to set on the track of the Sacred Hazel and eat the nuts straight from the bush."
"That would not be very easy," said the poet, "and yet it is not as easy as that, for the bush can only be found by its own knowledge, and that knowledge can only be got by eating the nuts, and the nuts can only be got by eating the salmon."
"We must wait for the salmon," said Fionn in a rage of resignation.
Finnéigeas had fished for 7 years for the salmon, and Fionn was able to catch it within his first few times fishing with his traps, when Finnéigeas found the salmon in Fionn's trap he was pleased and took it to show Fionn what he had done. He brought the fish to Fionn in a basket, and Fionn in his happiness nearly wept:
"What is it, my master?" said the alarmed boy.
The poet placed his osier basket on the grass.
"Look in the basket, dear son," he said.
Fionn looked
"There is a salmon in the basket."
"It is The Salmon," said Finnéigeas with a great sigh.
Fionn leaped for delight.
"I am glad for you, master," he cried. "Indeed, I am glad for you."
"And I am glad, my dear soul," the master rejoined.
But, having said it, he bent his brow to his hand and for a long time he was silent and gathered into himself.
"What should be done now?" Fionn demanded, as he stared on the beautiful fish.
Finnéigeas rose from where he sat by the osier basket.
"I will be back in a short time," he said heavily. "While I am away you may roast the salmon, so that it will be ready against my return."
"I will roast it indeed," said Fionn.
The poet gazed long and earnestly on him.
"You will not eat any of my salmon while I am away?" he asked.
"I will not eat the littlest piece," said Fionn.
"I am sure you will not," the other murmured, as he turned and walked slowly across the grass and behind the sheltering bushes of the ridge.
Fionn happily cooked the salomon for Finnéigeas while he was gone. The beautiful fish smoked on a wooden platter, and it was hard to deny how good the fish would taste...However he loved the old poet and would not betray his trust. When Finnéigeas returned Fionn knew by the look in his eyes that a truly great moment had arrived for the poet....
"So," said Finnéigeas, "you did not eat it on me after all?"
"Did I not promise?" Fionn replied.
"And yet," his master continued, "I went away so that you might eat the fish if you felt you had to."
"Why should I want another man's fish?" said proud Fionn.
"Because young people have strong desires. I thought you might have tasted it, and then you would have eaten it on me."
"I did taste it by chance," Fionn laughed, "for while the fish was roasting a great blister rose on its skin. I did not like the look of that blister, and I pressed it down with my thumb. That burned my thumb, so I popped it in my mouth to heal the smart. If your salmon tastes as nice as my thumb did," he laughed, "it will taste very nice."
"What did you say your name was, dear heart?" the poet asked.
"I said my name was Deimne."
"Your name is not Deimne," said the mild man, "your name is Fionn."
"That is true," the boy answered, "but I do not know how you know it."
"Even if I have not eaten the Salmon of Knowledge I have some small science of my own."
"It is very clever to know things as you know them," Fionn replied wonderingly. "What more do you know if me, dear master?"
"I know that I did not tell you the truth," said the heavy-hearted man.
"What did you tell me instead of it?"
"I told you a lie."
"It is not a good thing to do," Fionn admitted. "What sort of a lie was the lie, master?"
"I told you that the Salmon of Knowledge was to be caught by me, according to the prophecy."
"Yes."
"That was true indeed, and I have caught the fish. But I did not tell you that the salmon was not to be eaten by me, although that was also in the prophecy, and that omission was the lie."
"It is not a great lie," said Fionn soothingly.
"It must not become a greater one," the poet replied sternly.
"Who was the fish given to?" his companion wondered.
"It was given to you," Finegas answered. "It was given to Fionn, the son of Uail, the son of Baiscne, and it will be given to him."
"You shall have a half of the fish," cried Fionn.
"I will not eat a piece of its skin that is as small as the point of its smallest bone," said the resolute and trembling bard. "Let you now eat up the fish, and I shall watch you and give praise to the gods of the Underworld and of the Elements."
Fionn then ate the Salmon of Knowledge, and when it had disappeared a great jollity and tranquility and exuberance returned to the poet.
"Ah," said he, "I had a great combat with that fish."
"Did it fight for its life?" Fionn inquired.
"It did, but that was not the fight I meant."
"You shall eat a Salmon of Knowledge too," Fionn assured him.
"You have eaten one," cried the blithe poet, "and if you make such a promise it will be because you know."
"I promise it and I know it," said Fionn, "you shall eat a Salmon of Knowledge yet."
members.aol.com/guenhumara/fionn.html
www.iol.ie/~pbodon/etweb/salmon.html
www.sacred-texts.com/neu/celt/ift/ift02.htm
www.sacred-texts.com/neu/celt/ali/ali037.htm
netfiles.uiuc.edu/cdwright/www/Irish.Myth-461.html
To be cont.