Post by Lady Anastasia on May 11, 2008 20:55:39 GMT -5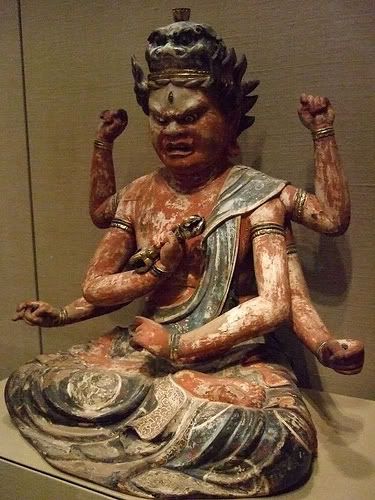 Aizen Myō-ō (愛染明王 or 愛染妙王)
AIZEN-MYOO: Japanese Buddhist deity of lust suppression.
Will turn your desires towards enlightenment. Looks rather angry, has three eyes and a lion in his hair.
In Japanese Buddhism, Aizen Myō-ō (愛染明王 or 愛染妙王) is the god of love and lust. Originally a Hindu deity, Rāgarāja, Aizen Myō-ō became part of Buddhism, and Kōbō Daishi transmitted the teaching of him to Japan.
One of the myō-ō or Vidyā-rāja class of Japanese Buddhist deities, Aizen-myō-ō is the god of love. In fact, his name means "Love," and he represents the idea of love changed into the Buddhist desire for Enlightenment.
WHO IS AIZEN MYŌ-Ō
Lust-Drenched One
Impassioned One
King of Sexual Passion
Aizen converts earthly desires (love/lust) into spiritual awakening, and saves people from the pain that comes with love. Aizen is celebrated in Japanese rites to achieve harmony and friendship, to succeed in one's romantic endeavors, to gain the love and respect of others, and to reach a clear understanding of the Dharma (Buddhist law).
Myo-o is the Japanese term for Sanskrit "Vidyaraja," a group of warlike and wrathful deities known in English as the Mantra Kings, the Wisdom Kings, or the Knowledge Kings. Myo-o statues appear ferocious and menacing, with threatening postures and faces designed to subdue evil and frighten unbelievers into accepting Buddhist law. They represent the wisdom of Buddhism, protect the Buddhist teachings, remove all obstacles to enlightenment, and force evil to surrender.
Introduced to Japan in 9th century, the Myo-o were originally Hindu deities that were adopted into Esoteric Buddhism to vanquish blind craving. They serve and protect the various Buddha, especially Dainichi Buddha. In most traditions, they are considered emanations of Dainichi, and represent Dainichi's wrath against evil and ignorance.
In Japan, the Myo-o group is worshipped mostly by the Shingon Sect of Esoteric Buddhism. Among the individual Myo-o, the one named Fudo is the most widely venerated in Japan, although Aizen (this page) enjoys a relatively large following as well.
WHO IS AIZEN. Literally the Lust-Drenched Mantra King, The Impassioned One, patron of those caught by desire or attachment.
Aizen is considered the god of love among Japan's Esoteric sects, the King of Sexual Passion, the one who converts earthly desires (love/lust) into spiritual awakening, and saves people from the pain that comes with love.
Statues of Aizen typically depict the deity with three faces, three eyes, and six arms (which hold various weapons). Aizen often wears a crown containing a shishi (magical lion). Aizen's red body symbolizes the power to purify sexual desire. Aizen often carries a bow and arrow (like Cupid), and is enshrined at Kakuonji Temple in Kamakura.
Today, Aizen is also revered in Japan's gay quarters as the patron of love. Aizen does not appear in Indian texts, and is unknown amoung India's deities. The primary source on Aizen is the Yogin Sūtra 瑜祇經 attributed to Vajrabodhi 金剛智. The sutra's full spelling is 金剛峯樓閣一切瑜伽瑜祇經 (Pavilion of Vajra Peak and all its Yogas and Yogins), which in Japanese is pronounced Kongōbu rōkaku issai yuga yugi kyō.
Aizen-myō-ō
Aizen is usually depicted with a red body possessing eight arms and three eyes on an angry face. A lion's head rests in his hair, symbolizing passion. He carries bows and arrows, which symbolize love as well as his role as a destroyer of evil.
He is portrayed as a red-skinned, frowning man, his appearance representing suppressed lust and passion. He variously has two, four or six arms; in the latter form, his hands bear a bell, a stick, a thunderbolt, a lotus, a bow and an arrow. Similarly, he sometimes has two heads, with a lion's head in his wild hair. According to legend, he represents the state at which sexual excitement or agitation becomes enlightenment and passionate love becomes compassion for all living things. In Buddhism, he manifests as a vajrasattva.
AIZEN WISH-GRANTING JEWEL. Aizen is closely connected with the magical wish-granting jewel (Jp. = Houjyu 宝珠; Sanskrit = cintamani), as are other Buddhist deities, especially Nyoirin Kannon, Jizo Bosatsu, and Kichijouten. Depending on the deity involved, the jewel can signify the bestowal of blessings on all who suffer, grant wishes, pacify desires, and bring clear understanding of the Dharma (Buddhist law).
In Aizen's case, worshippers often used the jewel to pray for success in their romantic relationships. One important ceremony was called the Jewel of Aizen Myōō Rite (如法愛染王法), pronounced Nyohō Aizen ō hō. The rite was used in the 13th and 14th centuries by esoteric sects to pray for the love and respect of others.
This Aizen rite is a variant of the main esoteric ceremony known as the Wish-Granting Jewel Rite (如意宝珠法), pronounced Nyoi Hōju Hō. This rite began sometime in the late Heian period, spearheaded by the Daigo-ji Temple (Shingon sect) in Kyoto.
Wisdom Kings
In general, *wisdom kings* symbolize the triumph of Buddhist practice over desires. As we have already seen, wisdom kings tend to be more specific, concrete, and narrowly focused than the Bodhisattvas. Although they have some of the physical characteristics of an enlightened being, they also differ significantly.
The most obvious difference is the *fierce appearance* of most wisdom kings compared with the serene countenance of most Buddhas and Bodhisattvas. Why the fierce appearance? Because wisdom kings are one aspect of the Bodhisattva's compassion, namely, the fierce determination to prevail over obstacles and a dislike for those obstacles.
A minority theory holds that the wrathful appearance of wisdom kings is a manifestation of the wrath of frustrated Buddhist practitioners. Either view, however, is ultimately the same because of the Buddha nature that inheres in all sentient beings.
Are wisdom kings enlightened beings? Yes and no. In the sense that they are specific aspects of the Buddha nature, their enlightenment may be seen as incomplete. On the other hand, as manifestations of compassionate Buddhas and Bodhisattvas, wisdom kings, too, must be enlightened.
*Wisdom Kings* are typically depicted as active. Even when seated, their arms and overall expression indicate active battle against the forces standing in the way of enlightenment. And many are not seated, but instead appear like dancers, vigorously taking a stand against desires and other spiritual hindrances. In taking their stands, wisdom kings typically employ many hand-held objects. Identifying specific wisdom kings usually depends on a combination of posture, hand-held objects, throne, and, sometimes, mudra.
Let us turn now to another popular wisdom king, *Aizen* (sometimes pronounced "Aisen") whose name literally means "soaked with love."
Though fearsome in appearance, this wisdom king acts only out of love for others. In Japan, Aizen is thought to control the amorous passions, redirecting them to ward the struggle to overcome desires.
He is the patron deity of dyers, possibly because the second part of his name means "dye" or "to dye" (hence "soaked").
When colored, he is typically bright red, suggesting the force of the passions, yet, at the same time, the vigor of his compassion.
His lion headdress indicates that *Aizen* possesses the strength of the five wisdom Buddhas. His three eyes are able to see the "three realms" of 1) desire, 2) form, and 3) non-form.
His mouth is usually half-opened and reveals fangs. His hair is fiery and stands on end. Like Fudō, Aizen is often surrounded by flames, which indicate the burning power of the passions. Aizen is usually seated on a lotus throne and carries a lotus flower in one of his four arms.
The most distinctive feature of Aizen is his bow and arrow, which is the best way to identify him (though it is sometimes missing). Interestingly, experts on Buddhist iconography are not agreed about the precise meaning of the bow and arrow.
All agree that it is a weapon against evil. Furthermore, according to some, it chases away carelessness and neglect (in observing Buddhist precepts).
For others, the arrow is Aizen's love (somewhat like Cupid's arrow), and, in another theory, it is the conquering strength of wisdom. Sometimes, Aizen holds a small mirror, a symbol of the void in Buddhism. He typically appears with six arms, but sometimes with only four.
The Myo-o are warlike emanations who represent the luminescent wisdom of the Buddha, and guard the four cardinal directions and the center. Introduced to Japan in the 9th century by the Shingon and Tendai sects, the Myo-o were originally Hindu deities adopted into the pantheon of Esoteric Buddhism to vanquish blind craving.
The teachings of Esoteric Buddhism are mystical and hard to understand, and require a high level of devotion and austerity to master. Elaborate and secret ritual practices (utilizing mantras and mudras and mandalas) are used to help partitioners develop and realize the eternal wisdom of the Buddha.
This form of Buddhism is not taught to the general public, but is confined mostly to Buddhist believers, priests and those far along the path toward enlightenment.
www.answers.com/topic/aizen-myo-o
en.wikipedia.org/wiki/Aizen_Myo-o
www.godchecker.com/pantheon/japanese-mythology.php?deity=AIZEN-MYOO&ds=N
www.buddhist-artwork.com/statues-buddhism/aizen-myoo-statues.html
www.buddhist-artwork.com/statues-buddhism/aizen-statue-sitting-wood.html
www.onmarkproductions.com/html/myo-o.shtml
www.east-asian-history.net/textbooks/480/ch9_main.htm