Post by Ogden on Jan 7, 2007 1:45:38 GMT -5
"Magic of any kind should be respected and only worked with clear intent. This site does not guarantee success of any spell posted here, authorize or condone the use of any spell, and takes no responsibility for any spell posted here. The posting of spells is for information and discussion purposes only"
This ritual is used as a form of meditation, protection, or "prayer". As a form of prayer, the Invoking Ritual should be used in the morning, the Banishing in the evening. As a protection, the Banishing Ritual is used to cleanse and protect and can be used to cast out unwanted spirits or energies.
It can be used as an exercise in concentration. Seated in meditation or lying down, visualize yourself standing up in robes and holding your athame. Put your consciousness in this form and go to the East. Make yourself "feel" there by touching the wall, stamping on the floor, etc. Begin the ritual and go around the room mentally vibrating the words and trying to feel them as coming from the form. Finish in the East and try to see your results in the Astral Light, then walk back and stand behind the head of your body and let yourself be reabsorbed.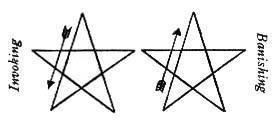 The Qabalistic Cross and Lesser Ritual of the Pentagram
Take your athame in your right hand. Face East. Touch your forehead with your right hand and vibrate (intone) ATEH.
Touch the base of your breastbone and vibrate MALKUTH.
Touch your right shoulder and vibrate VE-GEBURAH.
Touch your left shoulder and vibrate VE-GEDULAH.
Clasp your hands before you and vibrate LE-OLAM.
Dagger between fingers, point up and vibrate AMEN.
Using the athame, make in the air toward the East the Pentagram (either Invoking or Banishing) and, bringing the point of the athame to the centre of the Pentagram, vibrate—
YOD HE VAU HE
Go to the South, drawing the first quarter of the Circle, make the Pentagram and vibrate—
ADONAI
Go to the West, drawing the second quarter of the Circle, make the Pentagram and vibrate—
EHEIEH
Go to the North, drawing the third quarter of the Circle, make the Pentagram and vibrate—
AGLA
Return to the East, completing the Circle by bringing the athame point to the centre of the first Pentagram.
Stand with arms outstretched in the form of a cross and say:
Before me Raphael
Behind me Gabriel
At my right hand Michael
At my left hand Auriel
Before me flames the Pentagram —
Behind me shines the Six-Rayed Star
Repeat the Qabalistic Cross.